February 24, 2015
The Maturity Continuum: Explained In "The 7 Habits Of Highly Effective People" by Stephen R. Covey
"When I was a child, I talked like a child, I thought like a child, I reasoned like a child. When I became a man, I put the ways of childhood behind me. 1 Corinthians 13:11
This verse came to mind as I was reading "The 7 Habits of Highly Effectively People" by Stephen R. Covey and I thought it should be included in this post.
Covey explains how we develop through 3 stages of personal and interpersonal effectiveness.
"Dependent people need others to get what they want. Independent people can get what they want through their own effort. Interdependent people combine their own efforts with the efforts of others to achieve their greatest success."
The Maturity Continuum as explained by Stephen R. Covey
Maturing from dependence, to independence, to interdependence.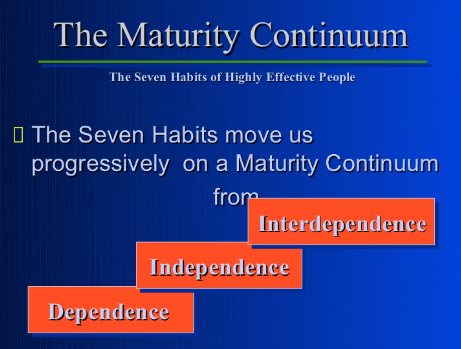 Dependence – Is needing others to get what you want. This is the lowest level where we all begin at birth.
We each begin life as an infant, totally dependent on others.  We reply on our parents are caretakers to take care of us.   Without this care, we would only live a few hours or days.
"Dependent people need others to get what they want.

If I were physically dependent – paralyzed or disabled or limited in some physical way, I would need you to help me.

If I were emotionally dependent, my sense of worth would dome from your opinion of me.

If I were intellectually dependent, I would count on you to do my thinking for me." Stephen R. Covey
Dependence is the paradigm of YOU.
Independent: Relying upon oneself to get what one wants and needs.
Through the years, we become more and more independent – physically, mentally, emotionally and financially – until we can take care of ourselves, becoming inner-directed and self-reliant.
When we reach the stage of independence, we can pretty much make it on our own.
We have our own thoughts and can think creatively, analytically.
We can express our thought in a way others can understand.
"Independence is not supreme! 

Independent people who do not have the maturity to thing and act interdependently may be good individual producers, but they won't be good leaders or team players." Stephen R. Covey
Independence is the paradigm of I
Interdependent: Relying upon cooperation with others to get what I want and help others get what they want.
Interdependent is more mature.  Being interdependent you are more self-reliant and capable but also understand that working together can accomplish more that can be accomplished my yourself .
This actually reminds me a part of the "Major Definite Purpose" which says "I will succeed by attracting to myself the forces I wish to use and the cooperation of other people."  If you don't have a copy of the Major Definite Purpose and Self Confidence Formula and described by Napoleon Hill in "Think and Grow Rich" you can download it here.
"Human life is interdependent!

We can combine our talents and abilities and create something greater together.

Interdependent people combine their own efforts with the efforts of others to achieve their greatest success.

"The interdependence concept appears to many to smack of dependence, and therefore, we find people often for selfish reasons, leaving their marriages, abandoning their children, and forsaking all kinds of social responsibility – all in the name of independence." Stephen R. Covey
Interdependence is the paradigm of WE
Interdependence is a choice only independent people can make.
After reading this post I hope you will stop and think where you are on you level of maturity.  Have you reached the stage of Interdependence? 
Please feel free to share this post on The Maturity Continuum: Explained In "The 7 Habits Of Highly Effective People" by Stephen R. Covey with someone who will also benefit from it.
Contact me if you would like to have a blog just like this one, Kalatu Viral Blogging System, and start making money blogging.